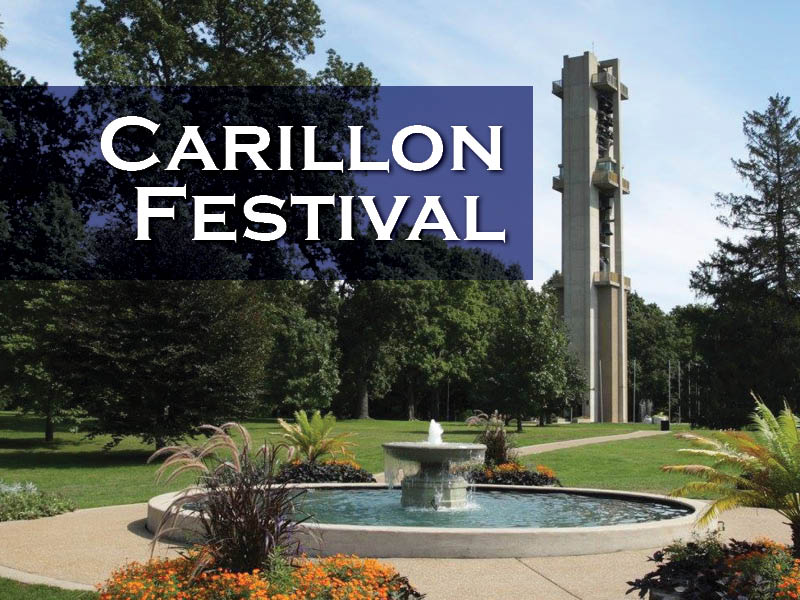 International Carillon Festival
June 4 @ 6:00 pm

-

June 7 @ 9:00 pm
The International Carillon Festival, first held in 1962, is lauded as one of the world's most important and prestigious carillon events. The Festival has earned an unsurpassed tradition of presenting the world's finest carillonists/carillonneurs. During the past five decades, the Festival has featured carillonists from: Australia, Belgium, Brazil, Canada, Denmark, England, France, Germany, Ireland, the Netherlands, Portugal, New Zealand, Norway, Switzerland, and the United States.
The Festival is presented by the Springfield Park District with the support of The Rees Carillon Society and The Carillon Belles, concerts are held each evening except for Wednesday. Individuals and families are encouraged to bring a picnic dinner as well as lawn chairs and blankets. There is large video screen are the base of the Carillon which allows the audience to view the playing keyboard and carillonist during the performance.
Tentative Schedule of the
59th International Carillon Festival
June 4 – 7, 2020
Thursday, June 4
6:00 PM TBA
6:30 PM Carol Lens, CO
7:15  PM TBA
7:40 PM Carlo van Ulft, IL
Friday, June 5
6:00 PM Springfield Municipal Band
6:30 PM Sue Bergren, IL
7:15  PM Springfield Municipal Band
7:40 PM Elizabeth Vitu, France
Fireworks at Dusk (~9:15 PM), with additional noise on the carillon provided by Carlo van Ulft.
Saturday, June 6
6:00 PM TBA
6:30 PM Carson Landry, FL
7:15  PM TBA
7:40 PM Carol Lens, CO
Sunday, June 7
6:00 PM Trinity Summer Band
6:30 PM Elizabeth Vitu, France
7:15  PM Trinity Summer Band
7:40 PM Carlo van Ulft, IL and Rachel Helton, IL (Violin)